Profile

Koinu's Insanity
~Witness the Insanity~
Free Account
Created on 2011-12-19 21:41:08 (#1146411), last updated 2016-08-21 (57 weeks ago)
1,101 comments received, 478 comments posted
304 Journal Entries, 156 Tags, 1 Memory, 15 Icons

About

Mini Bio
Pets~
Four cats, a gray-white one named Darling, a black-white one named Hatsu, a mostly gray one named Rin, and a black one named Odie.
One Dog, a Beagle named Ginger.
Likes~
Animals, music, nature, time alone, listening, reading, writing, daydreaming, helping others.
Dislikes~
Bashers/haters, intolerance, public speaking, pink (the color).
Favorites~
Manga, D.Gray-Man
Anime, No.6
Pairings, KandaAllen (DGM), RikuSora (KH), and 6927 (Reborn).
Bands/Artists, Ra, Disturbed, Green Day, Poets of the Fall, Sick Puppies, Panic! At the Disco, P!nk, A Perfect Circle, Yuki Kajiura, Kaoru Wada
Game Series, .hack and Kingdom Hearts
I claimed Kanda Yuu x Allen Walker (anime), Ryuichi Sakuma x Shuichi Shindou (anime), Hyuuga Neji x Uzumaki Naruto (manga), Riku x Sora @
otp_claims
I claimed Devitt (anime). Krad Hikari (manga), Kaname Kuran (manga), Roxas @
bishie_paradise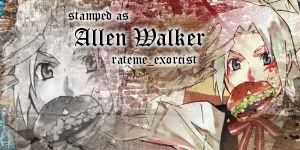 I was
stamped
as Allen Walker at
rateme_exorcist
.
I was
stamped
as having Equipment type innocence at
rateme_exorcist
.
I Write Like by Mémoires, Mac journal software. Analyze your writing!
If I think of anything else to put I'll put it later. For now:
~Byes~Byes!

Connect
+anima
,
.hack series
,
amv's
,
ancient egypt
,
animals
,
anime
,
art
,
black cat
,
books
,
boy-love
,
cats
,
code geass
,
computers
,
d.gray-man
,
darkness
,
demon diary
,
dgm
,
diablo
,
dice
,
dn angel
,
doujinshi
,
dragon knights
,
e's otherwise
,
fanfic
,
fanfiction
,
final fantasy series
,
fire
,
fruits basket
,
fullmetal alchemist
,
gakuen heaven
,
godchild
,
graphic design
,
gravitation
,
hikaru no go
,
horror
,
junjo romantica
,
juvenile orion
,
kamui
, kandaallen,
kingdom hearts
,
kuroshisuji
,
la esperanca
,
loveless
,
manga
,
megaman
,
music
,
mythology
,
naruto
,
nature
,
night
,
odagiri hotaru
,
our kingdom
,
pandora hearts
,
philosophy
,
princess princess
,
psychology
,
reading
,
rikusora
,
satisfaction guaranteed
,
sequence
,
shaman king
,
spiral
,
star ocean 3
,
sukisho
,
tactics
,
vampires
,
whistle
,
wind
,
writing
,
writting
,
yami no matsuei
,
yaoi
,
ygo:tas
,
yu yu hakusho
,
yu-gi-oh! the abridged series
,
yullen
,
yuugiou

People
[View Entries]

Communities
[View entries]

Member Of (5):

Subscriptions (12):
animanga_news
,
anime_manga
,
dgray_man
,
dw_maintenance
,
dw_news
,
fanmix
,
hitmanreborn
,
kingdomhearts
,
pandorahearts
,
ship_manifesto
,
theworldendswithyou
,
yaoi_fans

Administrator Of (0)

Feeds
[View Entries]

Subscriptions (0)

Linking
To link to this user, copy this code:
On Dreamwidth:
Elsewhere: